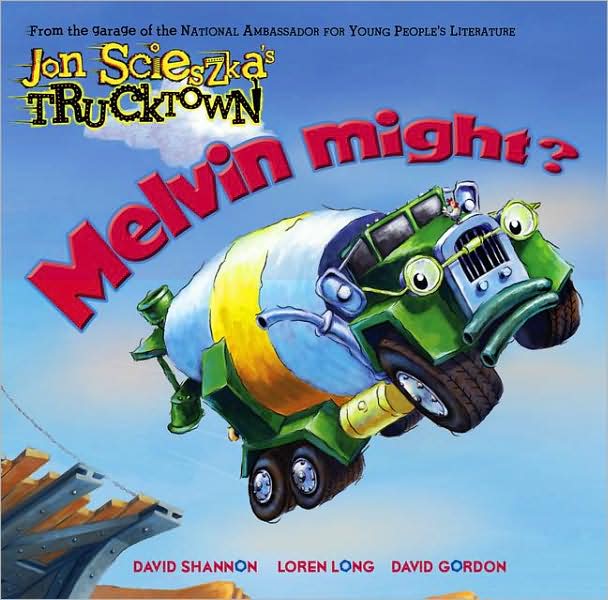 by Jon Scieszka (author), David Shannon (illustrator), Loren Long (illustrator), and David Gordon (illustrator)
Reading Level: Ages 3-8
Hardcover: 42 pages
Publisher: Simon & Schuster Children's Publishing, (October 28, 2008) COMING SOON!
Adorable! Melvin Might is the latest addition to Jon Scieszka's Trucktown series – an energized series based on very personable truck characters, and teamed with great pictures from a very notable team of illustrators. I just love Melvin's character, he's a worrier with a BIG heart. If you are not familiar with the Trucktown series, it has plenty of kid appeal – in fact Scieszka's main inspiration for the series came from the preschoolers at a school in Brooklyn. The first book in the series was the best selling Smash Crash!, followed by a release of board books, I-Can-Read books, and activitie books. In my opinion, Melvin Might is the best so far! The essence of Melvin's true character can really be felt, and I believe it will resonate with its intended age group – ages 3-8.
The synopsis from the Trucktown website:
Melvin the worrying Cement Mixer
worries about EVERYTHING… and doesn't think he can do ANYTHING.  He
watches nervously as Jack, Pete, and Rita roar, soar, and splash their
way to cross a ravine.  But when Rita cries out for help, Melvin knows
he must do something.  But how can he save her if he's worrying so much?

A few Jon Scieszka facts:
Links: Downlaodable PDF Activities, and Trucktown Screensavers for PC.
Jon Scieszka – a post by The Children's Book Review.
Add this book to your collection: Melvin Might?
Category: Ages 0-3, Ages 4-8, Award Winners, Books for Boys, Humor, Reluctant Readers, Social Graces
The Children's Book Review, named one of the ALSC (Association for Library Service to Children) Great Web Sites for Kids, is a resource devoted to children's literacy. We publish reviews and book lists of the best books for kids of all ages. We also produce author and illustrator interviews and share literacy based articles that help parents, grandparents, teachers and librarians to grow readers. This article was written and provided by one of
TCBR's regular contributors
.