By Bianca Schulze, The Children's Book Review
Published: May 19, 2010
Celebrate SUMMER READING with Random House. The following books are the selections made by Random House Children's Books from their own new release, coming-soon, and paperback catalogs:
BARRY THE FISH WITH FINGERS
by Sue Hendra
Little beach lovers will love this fun new fish character. Life under the sea can be as dull as dishwater, until Barry arrives, that is. Barry is no ordinary fish—he's a fish with fingers! Sue Hendra's hilarious text and bright, bold, colorful art will have youngsters begging to read this story again and again.
Alfred A. Knopf / 978-0-375-85894-9 / June 8, 2010 / $15.99 / $19.99 Can. / Ages 4-8 / 40 pages
LUNCH LADY AND THE SUMMER CAMP SHAKEDOWN
by Jarrett J. Krosoczka
The hit graphic novel series goes to a new setting—summer camp! Lunch Lady and the Breakfast Bunch kids are looking forward to a relaxing summer vacation. What evils could befall them at summer camp? The legendary swamp monster! Stories say he haunts the camp at night.
Alfred A. Knopf / 978-0-375-86095-9 / May 11, 2010 / $6.99 / $8.99 Can. / Ages 7–10 / 96 pages
 EMILY'S FORTUNE
by Phyllis Reynolds Naylor
A great summer trip for young readers: Go to the Wild West with Newbery Award winner Phyllis Reynolds Naylor. This witty tale of the Wild West is filled with comical cliffhangers and features a cast of plucky orphans and dastardly villains. When Emily Wiggins is unexpectedly orphaned, she is left all alone except for her turtle, Rufus. What in blinkin' bloomers should Emily do? Emily's neighbors, Mrs. Ready, Mrs. Aim, and Mrs. Fire, have the answer: Emily must travel by stagecoach to the home of her honorable aunt Hilda. What a rootin' tootin' grand idea!
Delacorte Press / 978-0-385-73616-9 / June 8, 2010 / $14.99 / $18.99 Can. / Ages 7–10 / 272 pages
SEAGLASS SUMMER
by Anjali Banerjee
Young readers will fall in love with 11-year-old Poppy Ray and her warm story of how she spends her summer. Poppy longs to be a veterinarian, but she's never had a pet. This summer, she's going to spend a month with her uncle Sanjay, veterinarian and owner of the Furry Friends Animal Clinic on an island off the Washington coast. With warmth and humor, Anjali Banerjee tells the story of a resourceful, determined girl who can't wait to grow up, but begins to realize just how much she has left to discover.
Wendy Lamb Books / 978-0-385-73567-4 / May 11, 2010 / $15.99 / $19.99 Can. / Ages 8–12 / 160 pages
TURTLE IN PARADISE
by Jennifer L. Holm
What better summer adventure to take than a new novel from two-time Newbery Honor winner and New York Times bestselling author Jennifer L. Holm? Inspired by family stories, Jennifer Holm beautifully blends family lore with America's past in this charming gem of a novel, rich in historical detail, humor, and the unique flavors of Key West. It's 1935, and jobs, money, and sometimes even dreams are scarce. When Turtle's mama gets a job housekeeping for a lady who doesn't like kids, Turtle heads off to Key West, Florida, to stay with relatives she's never met.
Random House / 978-0-375-83688-6 / May 25, 2010 / $16.99 / $19.99 Can. / Ages 8–12 / 208 pages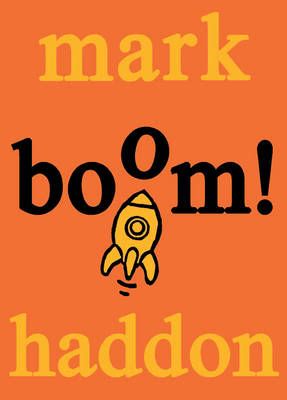 Boom!
by Mark Haddon
Boy readers will love this explosive, highly charged, and hilarious middle-grade adventure from Mark Haddon, acclaimed author of The Curious Incident of the Dog in the Night-time. From the moment that Jim and his best friend, Charlie, bug the staff room and overhear two of their teachers speaking to each other in a secret language, they know there's an adventure on its way—and there sure is! A nuclear-powered, 100-ton adventure with reclining seats and a buffet car. And as it gathers speed and begins to spin out of control, it can only end one way . . . with a BOOM!
David Fickling Books / 978-0-385-75187-2 / May 11, 2010 / $15.99 / Ages 10 up / 208 pages
TREAT YOUR YOUNGEST READERS TO THE PERFECT LITTLE GOLDEN BEACH READS
A Day at the Seashore (Little Golden Book)
by Kathryn Jackson and Byron Jackson
Nancy and Timmy hop out of their beds one summer morning, help pack their swimsuits and lunch, and then it's off to the seashore! In a charming rhyme, this Little Golden Book from describes what preschoolers will find at the beach.
The Poky Little Puppy by Janette Sebring Lowrey and Gustaf Tenggren
One of the original 12 Little Golden Books, The Poky Little Puppy has sold nearly 15 million copies since 1942, making it one of the most popular children's books of all time.
The Monster at the End of this Book by Jon Stone and Michael Smollin
Generations of kids have interacted with lovable, furry old Grover as he begs the reader not to turn the page—for fear of a monster at the end of the book.
TEENS WILL SOAK UP THE SUMMER WITH THESE POPULAR PAPERBACKS
Scat
by Carl Hiaasen
Bestselling author and columnist Carl Hiaasen returns with another hysterical mystery for kids set in Florida's Everglades. Bunny Starch, the most feared biology teacher ever, has gone missing. She disappeared after a school field trip to the Black Vine Swamp. When the principal tries to tell the students that Mrs. Starch was called away on a "family emergency," Nick and Marta just don't buy it. So they set out to solve the mystery.
Alfred A. Knopf / 978-0-375-83487-5 / April 27, 2010 / $8.99 / $11.99 Can. / Ages 8–12 / 304 pages
I Am the Messenger by Markus Zusak
A 2005 Michael L. Printz Honor Book and recipient of five starred reviews, I Am the Messenger is a cryptic journey filled with laughter, fists, and love. Ed Kennedy is an underage cabdriver without much of a future. His life is one of peaceful routine and incompetence until he inadvertently stops a bank robbery. That's when the first ace arrives in the mail. That's when Ed becomes the messenger. Ed makes his way through town helping and hurting (when necessary) until only one question remains: Who's behind Ed's mission?
Alfred A. Knopf / 978-0-375-83667-1 / May 11, 2010 / $10.99 / $13.99 Can. / Ages 12 up / 368 pages
Brisingr (Inheritance) by Christopher Paolini
Oaths sworn . . . loyalties tested . . . forces collide. It's been only months since Eragon first uttered "Brisingr," the ancient language term for fire. Since then, he's not only learned to create magic with words, he's been challenged to his very core. Following the colossal battle against the Empire's warriors on the Burning Plains, Eragon and his dragon, Saphira, have narrowly escaped with their lives. Still, there is more adventure at hand for the Rider and his dragon, as Eragon finds himself bound by a tangle of promises he may not be able to keep. First is Eragon's oath to his cousin, Roran: to help rescue Roran's beloved from King Galbatorix's clutches. But Eragon owes his loyalty to others, too. The Varden are in desperate need of his talents and strength—as are the elves and dwarves. When unrest claims the rebels and danger strikes from every corner, Eragon must make choices—choices that will take him across the Empire and beyond, choices that may lead to unimagined sacrifice. Eragon is the greatest hope to rid the land of tyranny. Can this once simple farm boy unite the rebel forces and defeat the king?
Alfred A. Knopf | 9780375826740 | 800 pages | Ages 12 up | $14.99 | $17.99 Can. | April 13, 2010
Experience the bestselling phenomenon of BRISINGR, now in paperback!
Accolades for the Inheritance cycle:
#1 USA Today Bestseller
· #1 New York Times Bestseller
· #1 Publishers Weekly Bestseller
· #1 Book Sense Bestseller
· Book Sense Book of the Year
· Wall Street Journal Bestseller
· Rights sold in over 40 languages
· A major motion picture of Eragon was released by Fox in 2006
"Christopher Paolini is a true rarity."—The Washington Post
"Christopher Paolini makes literary magic with his precocious debut."—People
"An authentic work of great talent."—The New York Times
"The hottest fantasy title of the moment."—USA Today
Leave us comment: What looks good to you?
How You Support The Children's Book Review
We may receive a small commission from purchases made via the links on this page. If you discover a book or product of interest on this page and use the links provided to make a purchase, you will help support our mission to 'Grow Readers.' Your support means we can keep delivering quality content that's available to all. Thank you!